Sometimes you may accidentally deleted some important files from your local PC. In this situation you may worried how to get those files back. Don't worry here we are providing simple steps to Recover Permanently Deleted Files in Windows 7/8/10. These steps recover deleted files from your external hard drive, memory cards, USB sticks also.
Piriform Recuva
Piriform Recuva software can recover pictures, music, documents, videos, emails or any other file type you've lost. And it can recover from any re-writable media you have: memory cards, external hard drives, USB sticks and more!
Key Features
Superior file recovery: Recuva can recover Photographs, documents, music files, even emails. It works on any re-writable media you have. If you are a photographer, Recuva supports the Nikon RAW and Canon RAW formats also.  You don't have to worry about losing music from iTunes or your iPod any more, even it recover deleted files from iPod touch or iPhone or iPad.
Recovery from damaged disks: If you are upset with damaged or newly formatted drives, don't worry, Recuva can recover files from damaged or newly formatted drives. 
Recover deleted emails: Emptied your email trash and need it back? Recuva's got you covered with full support for Microsoft Outlook Express, Mozilla Thunderbird, or Windows Live Mail.
Recover deleted iPod music: If you want to recover deleted music from your iPod or MP3 player? No problem, Recuva will get this back for you along with any additional track data.
You may like xender secure file transfer
How to Download Recuva Software
Recuva supports Windows 10, 8.1, 7, Vista and XP, Including both 32-bit and 64-bit versions. You can download it from the below web link:
https://www.piriform.com/recuva
How to Recover Permanently Deleted Files in Windows 7/8/10
Step 1: Install the Recuva software.
Step 2: Run the Recuva software from the created shortcut.
Step 3: Select a sort of file which you are trying to recover. If you are not sure click on all files.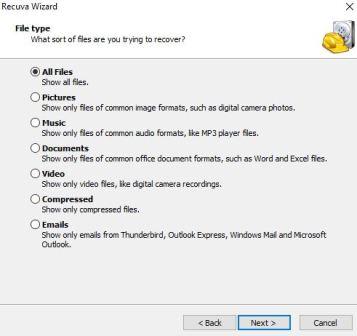 Step 4: Click on file location from where it is deleted. If you don't know the location then go for I'm not sure.
Step 5: Allow Recuva to complete scan, after few minutes depending upon the size of disc it displays the files list.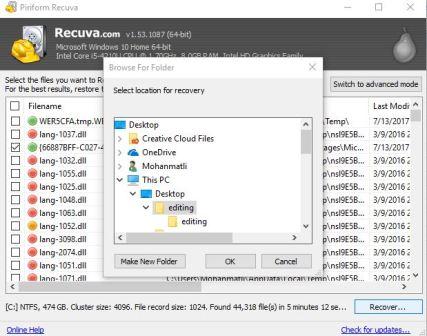 You can see three different colors of file categories. Red means no chance to recover, Yellow means fewer chances to recover and Green means you can completely recover those.
Step 6: Select the file and location where you want to restore that file then proceed for restore. For best results restore the files to a different drive.