VidyoMobile app provides a free high quality video conferencing service to both Android and iOS devices. With Vidyo you can host a person-to-person or multi-party video conference from your office, home, or on the road.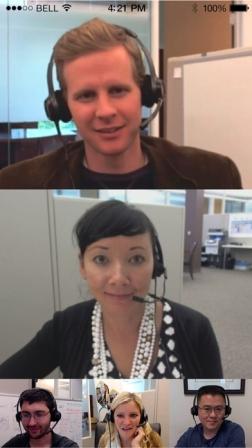 Key Features:
VidyoMobile Highlights:
Join and host meetings from your smartphone or tablet running Android or Apple iOS.
Automatic and adaptive encoding modes up to 540p for optimal quality and efficiency.
Easy to send a conference link in any email, message, or appointment to join a conference.
Easy to switching between front and rear-facing cameras on fly.
View calendar of upcoming meetings or schedule new meeting right from the VidyoMobile app.
You may also like PIP Camera App-Photo Editor 
Rich In-Conference Experience:
With VidyoMobile you can customize any participant bigger with pinch-to-zoom and real-time panning.
Conference with participants on room systems, desktops, laptops, tablets, and smartphones.
Customization layout with up to 4 onscreen participants.
DTMF support to join conferences on third party systems.
Exclusive Vidyo Technology:
Toggle to switch between content shares from multiple participants.
Extreme Definition (XD) displays up to 3 megapixel resolution for shared content.
Easy to Own and Secure:
Full functionality on both WiFi and 4G networks, sustaining conferences on variable links with up to 20% packet loss.
Vidyo Video Conferencing is absolutely free.
Automatic NAT and firewall traversal.
SSL and AES-128 bit encryption (with 3rd party certificate).
Download VidyoMobile:
VidyoMobile available for both Android and iOS platforms.